A few weeks ago, Apple availed a sneak peek into their long-awaited WatchOS 7. As is with all Apple products, the watch is as glamorous as advertised. This is the most advanced smartwatch in the world, and there are pretty good reasons and features to back that claim up, particularly with Apple WatchOS 7's new health features.
Never before has a watch been so personalized to meet all the needs of an individual like the Watch OS 7. It comes packed with workout features, hand-washing detection, watch face configurations, and sleep tracking designed to improve the overall health and user experience.
If keeping track of your general health is a priority, then WatchOS 7 is the one gadget your wrist needs.
To properly paint for you the picture of just what this fantastic smartwatch can do, here are the WatchOS 7 features that are going to change you and your health:
Automatic Hand-Washing Detection
The smartwatch couldn't have come at a better time: we are smack in the middle of a pandemic that involves one of the most infectious diseases ever recorded. WHO has recommended hand-washing as one of the many ways that keep COVID-19 at bay.
The WatchOS 7 is equipped with motion sensors, an onboard machine learning device, and a microphone that automatically detects hand-washing sounds and motions. The watch immediately starts a countdown timer to ensure that you keep washing your hands for the recommended duration of 20 seconds. If you stop too early, it prompts you with an alert to keep on scrubbing.
Hand-washing can easily slip your mind when you have had a long day. However, with the new WatchOS 7's reminders, you will be able to easily monitor and keep your hands clean when you get home.
Hearing Protection
This smartwatch's predecessor, WatchOS 6, came with a Noise app that could measure the user's sound level exposure and duration.
WatchOS 7 goes a step further by introducing audio notifications that enhance your hearing health. It is easy to misjudge how loud your earphones are, and with time, you may get used to high volumes which will negatively affect your ears.
This feature aims to prevent that by helping you understand how loud the media you may be listening to is. Once the headphones or earphones have attained 100% of the safe weekly listening volume, you will receive a notification.
This way, you can see the duration of time that you were exposed to decibels above the recommended levels.
All the audio from this feature is neither recorded nor stored by the Health app or the watch hence your privacy is always guaranteed.
Sleep Detection
On average, you need 6 – 8 hours of sleep for your body to recover and heal itself. However, this is easier said than done for most people.
Insomnia is a severe condition that affects many around the world. WatchOS 7 has a sleep tracking feature that helps you get the maximum amount of sleep that you desire. On top of that, the feature helps you plan your sleeping schedule; when you get to go to bed on time regularly, you develop a healthy sleeping routine eventually.
The smartwatch tracks all the micro-movements that the wearer makes in bed. It also takes note of the time you go into and out of bed.
When you wake up in the morning, the watch presents you with a visualization of your last night's sleep: that includes the moments that you may have been awake.
With WatchOS 7's weekly sleep trend-charts available on your phone, you can easily manage your sleeping routines for optimal benefits.
Apple recommends your watch be charged to at least 30% before you go to sleep. In the event that your Apple Watch has a low charge, the watch sends you a charging reminder in the hour before you hit the sack. 
Charging beforehand keeps the smartwatch on overnight and is able to record your patterns for better sleep management.
New Fitness Features
Workout and fitness features have been a central part of smartwatches for ages. It is how people keep track of the distance they cover in a day and how many calories they have burned after a workout.
WatchOS 7 takes the world of fitness and exercise to another level.
It comes equipped with top-of-the-range algorithms that include Cooldown, Dance, Functional Strength, and Core Training designed to give you more accurate data based on which activity you are doing.
The smartwatch keeps track of the heart rate and combines that data to account for all the body movements that the wearer makes.
Apple's 'Activity' app has been renamed to 'Fitness'. That's the one with the rings: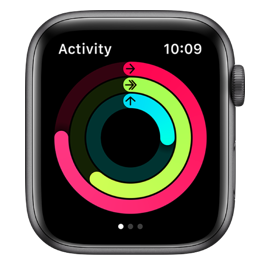 This new Fitness app has been reconfigured to provide you with all the information regarding your routines and the achievements you have gained so far to show you whether you are on the right track with regard to your fitness goals.
Other Notable Updates
Building on what WatchOS 6 provided, the WatchOS 7 has lots of updates that are going to improve the overall user experience. Some of the notable upgrades include:
For those that love biking, the watch comes with cycling directions that are in easily readable large fonts. It directs the wearer along the map on where to dismount, where to walk the bike, and the places to avoid.
The Health app also comes with a Mobility Metrics feature that monitors the wearer's ability to move safely and with ease as they continue to age. These metrics are very crucial for the clinical community as they help doctors and caregivers to quickly diagnose their patients without other tests.
Conclusion
If you are looking for a smartwatch that is personalized to your daily needs and sensitive to the current times, the Apple WatchOS 7 will give you the widest variety of features.
Your privacy is important, and Apple respects that. Health data is personal information, and with that in mind, the smartwatch has been designed to protect that. All the data collected by the WatchOS 7 is encrypted and cannot be accessed by any other person apart from you.
The WatchOS 7 release has been slated for this autumn for Apple Watch Series 3 through 5. The developer beta version was released on June 22 and can be accessed by registered developers only.
Also read:
Best Apple Watch Band For Running
Best Apple Watch Bands for Working Out